911-210-3020-10
CNC-controlled pattern stitcher for medium-heavy duty applications
The pattern stitcher 911 with its new and innovative design and the flexible material clamp technology is predestinated for safety seams in Airbag,functional seams or decorative stitching in technical textiles, car interior decoration, garments and leather goods.
• Sewing field: 300 x 200 mm (X/Y)
• High bobbin thread capacity by XXL vertical hook (Ø 32 mm).
• Trouble-free processing of differing material plies by programmable stroke Adjustment.
• Flexible use by "teach-in programming" directly at the touchscreen control panel or by.
means of external PC programming software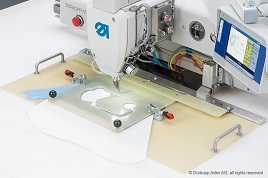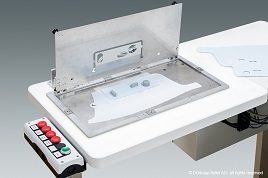 The approved M-TYPE sewing technology and the intuitive user software guarantee an excellent sewing result, maximum functionality and high productivity.

Your advantages in production:

• Low maintenance due to approved M-TYPE technology
• High performance due to max. sewing speed of 3.000 stitches/min.
• Programming of "input/output signals" for every single stitch possible
• Constant, tight stitch formation by electronic thread tension, programmable per stitch
• Electromagnetic thread clamping device for neat seam beginning
• Thread breakage identification with automatic sewing stop
• Monitoring of the bobbin thread capacity by stitch counting or thread consumption control
• Performance recording by piece counter

Advantages for the operator:

• Easy handling of the machine functions by means of intuitive menu navigation at the touchscreen control panel
• Seam contour is indicated on the display
• Size and position of seam patterns can be changed at the touch of a button directly at the machine
• Memory capacity for up to 200 seam programs with max. 20.000 stitches each
• Up to 30 different seam patterns programmable per sewing cycle (sequence)
• 20 different seam sequences programmable

Technical features:

• Sewing field size 300 mm x 200 mm (max. 380 mm x 200 when using a change clamp to be removed during bobbin change)
• Max. thread size up to Nm 10/3
• Max. sewing speed 3.000 stitches/min.

Optional:

• NSB "neat seam beginning" (0911 597494)
• Bobbin thread monitor (0911 597894)
• barcode scanner (0911 597554)
• DACcad-Professional Software for design and editing of sewing pattern (9835 200353)

There are three different thread tension plates to choose from for the 911:
- Mechanical thread tension, for simple, repetitive sewing work
- Mechanical / electrical thread tension, sewing work in different heights of material
- Electric thread tension for flexible use in different materials and sewing work